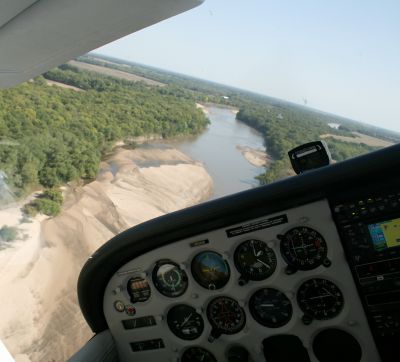 About MANG Aero Club, Inc.
MANG Aero Club is a Michigan registered non-profit flying club that was formed in 1959 by members of the Michigan Air National Guard (hence, the name MANG), and was originally based at the Romulus Airport which we now know as Detroit Metropolitan Airport (KDTW). The club's purpose is to provide its members with an opportunity to engage in flying as a recreational activity, promote ongoing training, and to encourage safe airmanship, all at a reasonable cost.
The club allows for a maximum of 55 members, with three aircraft located at Willow Run Airport (KYIP) near Ypsilanti in southeast Michigan. The aircraft are housed in adjacent locked hangars at the "Birdcage" hangars on the east side of the airport. Willow Run is a tower-controlled field (24/7), with multiple runways and instrument approach capabilities. (View the Airport Diagram)
We have a good mix of pilots in the club, with instructors who can work with you for your initial checkouts, Flight Reviews and advanced instruction.
All aircraft are maintained by licensed mechanics under the direction of the Chief Maintenance Officer. Our goal is to keep the aircraft in first class condition with minimal down time and low maintenance costs, thus assuring maximum availability and safety to its members.